Laundry
When designing your house, "unless you are a minimalist tidy freak", there are bits, pieces, and items that all need a home. Let's be practical laundry is untidy! Not only that, for the smooth running of a house there are functions that just need to be accommodated within the envelope of the home. So how do you find space for laundry? Planning!
One of the biggest responses I received on Twitter for a tweet recently was one of a wall-mounted drying rack for clothes. Who knew that this one feature would generate such a long discussion? I have recently designed and installed this item into a project where the client really didn't like to use a tumble dryer, using a washing line in the garden wasn't practicable – so I researched on the internet and found a number of options.
In a busy household where you don't want your drying clothes to be sprinkled around the house drying on radiators and folding racks – a well designed small space can save you this issue.  You don't have to have a special room for laundry, just some thought put into where it's all going to go – and shock horror gasp, the washing machine doesn't have to go in the kitchen!   Not something that is often considered important by many interior planners, but to me a well-designed room for laundry is a thing of beauty!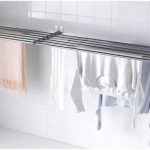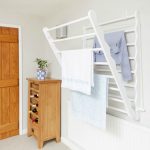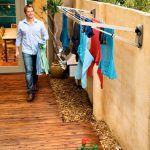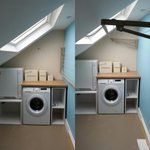 Click here to return to all articles or click left or right headings below to scroll through articles.